This is the presentation of the Saint of the day for April 1, Saint Hugh Bishop of Grenoble by Catholic Lectionary.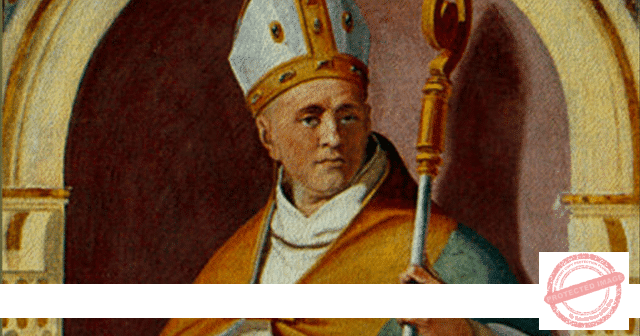 Life of Saint Hugh, Bishop of Grenoble
O Christian Soul, it happened that the Catholic See of Grenoble had fallen into a very poor state and disorder, through the sloth and bad example of the pastors in charge of it.
The bishops gathered in a Synod in Avignon, France, to decide whom to choose to be the bishop of Grenoble. All the priests were around, even monks were available, but it was a pious layman named Hugh that the whole Council of Avignon fixed their eyes on as the person best qualified, by his virtues and prudence, to reform these abuses and restore the ancient glory of that church.
Hugh was born in Chateauneuf-sur-Isere in France. He was academically brilliant, tall of stature, and by nature very bashful; his courtesy and modesty easily won hearts.
After he was unanimously elected, the twenty-seven year old, although deeply shocked, reluctantly submitted. He was ordained and consecrated Bishop of Grenoble by Pope Gregory VII.
Bishop Hugh went on to vigorously and successfully reform his diocese, curtailing both clerical and lay abuses and implementing wholesome and holy practices. He loved his people and led them for fifty-two years.
Reflection
O Christian soul, Hugh a lay person was called to lead the church of God, according to the laws of those times, if you were to be called to serve in the church today what do you think people would say by the way you are living now?
Or are you one of those who bring disorder into the Church, by suggesting to priests and Reverend Brothers and sisters what now sacramental to introduce?
Do you by your actions confuse the innocent people of God who have come to seek the face of their Creator by the way you dress and scandalously answer calls before the Blessed Sacrament?
Please tell me; when did the sprinkling and burying of salt and sprinkling of anointing oil replace the sprinkling of holy water in the blessing of our homes, shops and other properties? Be careful the way you are practicing this our most cherished catholic faith!
Call for Meditation
'Who is going to save our Church? Do not look to the priests. Do not look to the Bishops. It's up to you, the laity, to remind our priests to be priests and our Bishops to be Bishops' [Venerable Fulton J. Sheen].
This day my Jesus, teach me how to take care of my responsibilities as a member of your Body, the Church. May I never keep one of my feet in the Catholic Church and the other in the ministries of fake prophets. Amen.
Having gone through this piece about saint of the day for April 1, Saint Hugh Bishop of Grenoble; make effort O Christian soul to amend your life. Peace of Christ be with you.
Join us on Facebook @ Catholic Lectionary